MerPerle Hon Tam Resort had a new direct water supply from the mainland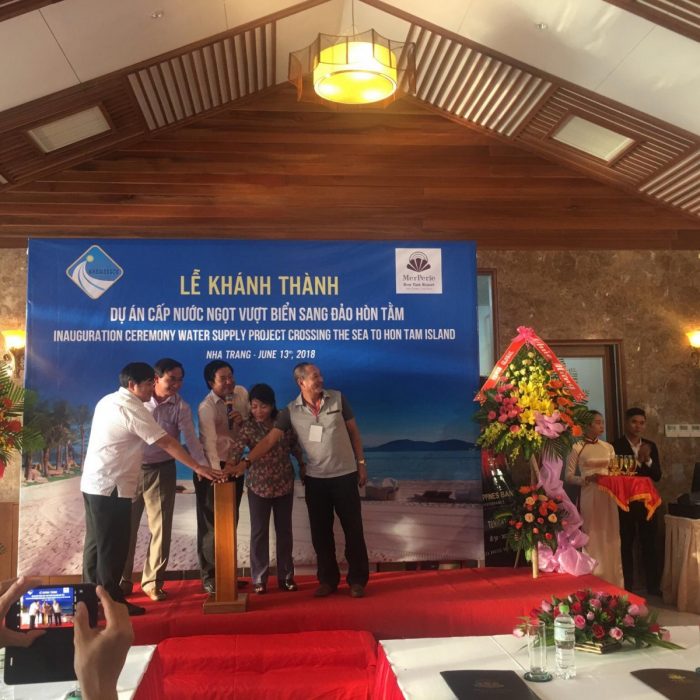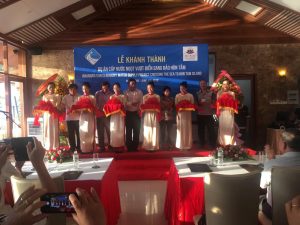 In a beautiful sunny day of June 13th, 2018 on Hon Tam Island (simply known as Silkworm Island) an inauguration ceremony on new direct water supply from the mainland was hosted by Hon Tam Nha Trang Sea Joint Stock Company which owns MerPerle Hon Tam Resort.
This project was invested for VND 22 billion (roughly equivalent to USD 01 million) and will greatly benefit the resort as it can now get the water directly from the mainland in Nha Trang to ensure the high quality of water is sufficiently provided to valued staying guests in terms of water pressure and speed.
In previous years, the water had been indirectly obtained from Tri Nguyen Island where the water supply was pumped from the mainland.
The project was under construction for almost two months from April to early June 2018 and went beyond the expectation of the Group as it saved for 50 days.
Attending the ceremony was the presence of representatives of Khanh Hoa Provincial Party Committee and People's Committee, Nha Trang City Party Committee and People's Committee, Khanh Hoa Provincial Water Supply Company, Khai Vy Group, Hon Tam Nha Trang Sea Joint Stock Company, Minh Thong Company that had completed the project perfectly and so on.
Speaking at the ceremony, Mr. Doan Van Trang, Chairman of Khai Vy Group (the mother company of Hon Tam Nha Trang Sea Joint Stock Company) said: "The new water supply will help to enhance the service quality thus creating higher guests satisfaction". "It can be seen as a strong momentum to do many other things to bring the level of guest comfort to a new height", he added.
Khai Vy Group is the mother company of MerPerle Resorts & Hotels, a portfolio of a boutique collection in prime locations in vibrant Ho Chi Minh City and the coastal city of Nha Trang. Soon-to-be properties consist of a Courtyard By Marriott Nha Trang Hon Tam Resort.
The Group originated from manufacturing wooden interiors. After a number of years on developing and integrating into global markets, its high-quality and standardized wood products have penetrated and entered into well-known retail stores in Europe and US through leading importers such as Home Depot, Ikea, Lowe, Carrefour, Metro, Target…and it now ranks in top 10 leading Vietnamese manufacturers in wood processing and exporting to the world market.
MerPerle Resorts and Hotels is a leading accommodation brand in Vietnam that provides luxurious tourist experience based on the business philosophy of bringing the guests with a diversified range of products and outstanding service which create a unique experience and a feeling of being belonged with the Vietnamese culture and nature.
MerPerle Hon Tam Resort is the "oasis" nestled in the tropical breezy hills of Hon Tam Island. Surrounded by scenic evergreen hills, the resort has a spectacular view down the turquoise gem that is the famous Nha Trang Bay.
Located isolatedly on a beautiful island in the tourism city of Nha Trang, MerPerle Hon Tam Resort is somewhat a destination of your-must choice for a hideaway from the bustling city life, a seek for couple romance or simply a family rest and relax or even any reasons.
At MerPerle Hon Tam Resort, guest satisfaction is the top priority and the team continuously are working hard toward enhancing the resort image and building a great brand name by providing better care of guests.