"SEABREACHER" WATER CRAFT IS NOW IN HON TAM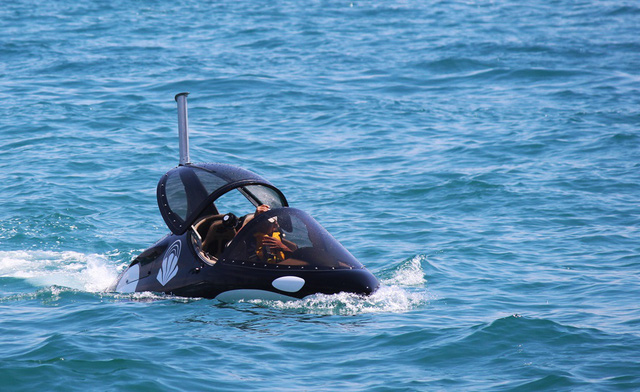 (Dân trí) –On April 16th, 2017 a new type of water craft named "SeaBreacher" under the shape of Killer Whale and Dolphin to be presented in Hon Tam island – Nha Trang bay, at MerPerle Sparkling Waves amusement area.
Seabreacher water craft first time appears in Viet Nam.
About 5 feet for brief duration but generally they go just a few feet below the surface in order to keep the snorkel above the water.
It is surprisingly quick to pick up the basic operation of the Seabreacher and learn to navigate on the surface. Prolonged dives and other tricks take a little longer to master, but most pilots are proficient in a couple of days.
The new killer whale vessel, which is similar in size and scale to the real thing, incorporates new Orca inspired design features, including a fully panoramic bubble canopy, a more rounded off nose, new pectoral fins, and a functioning blowhole with the push of a button. The Seabreacher Y comes standard with the 230hp supercharged engine found in the X model, and offers the same high performance capabilities.
The Z model (Dolphin) is the first Seabreacher with a fully retractable snorkel, allowing pilot and passenger to experience the thrill of high speed 360 degree barrel rolls. The Z model, which replaces the original J model, retains the friendly dolphin style body but with much higher performance and "aquabatic" capabilities. You can also choose to have the Shark or Killer Whale body styles. This new model comes standard with a Rotax 230hp supercharged engine, two seats, and a fully vectored thrust system. If you're looking for the most extreme watercraft on the market today, the Z model is definitely for you.
They have been designed to operate in salt water as well as fresh water and are designed to handle moderate ocean conditions. We do not recommend that novice operators operate them in surf or rough ocean conditions.
Viết Hảo.
Link to the news:
http://dulich.dantri.com.vn/du-lich/loai-tau-lan-giong-tau-tong-thong-donal-trump-xuat-hien-o-nha-trang-20170417064325118.htm